I-sitedesign webhosting price structure
Web hosting is what allows you to have space on the internet. A server such as ours gives you the opportunity to link your web site to the internet so anyone can see it. The price structure is simple: your domain name (whatever the address is, such as www.i-sitedesign.net) requires an initial cost of $15, and needs to be renewed each year for an additional $15. We host your site for $25 per month, and you can pay monthly, quarterly or annually. Call us at 941.639.8663.
Our servers are at the NAP of the Americas / NAP
Our network infrastructure includes the following: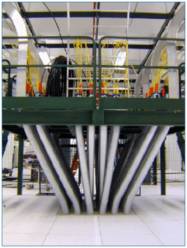 One of several redundant
Fiber conduits entering the facility
Multiple redundancies
Fifth Tier-1 Network Access Point in the World
Strategically located to serve Latin America
Endorsed by consortium of over 100 telecom industry leaders
State-of-the-Art Network Operation Center
No single point of failure philosophy to attain five 9's of reliability (99.999% uptime)
Automated fire suppression systems
Advanced security systems
Redundant communications paths with 192 dedicated 4 inch conduits for fiber Core Ethernet switching network built with highly scalable architecture and capacity to handle 100's of million of packets per second.
Fully redundant switching network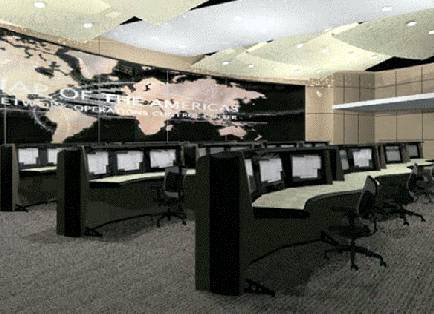 Our facilities also include the following:
Miami Police sub-station located on site Multiple redundancies
Fortress style construction
Multi-layer security systems
Motion detectors
Strict security policies
Fixed and roving security guards
24-hour police presence Manned 24x7x365
Cameras, including pan-tilt-zoom cameras, located throughout exterior and interior Key card access
City of Miami Police sub-station to be located on ground floor
Ramming bollards protecting exterior
Caged car traps at garage entry and secure loading docks
State-of-the-art fire detection and suppression systems

The roof at NAP of the Americas has 8 inches of structural concrete Facilities include the following:
The NAP of the Americas- one of only five Tier 1 Internet Peering points in the world
750,000 sq. ft. dedicated technology building 14' above sea level, outside of 500-year flood plain and evacuation zone
Designed to withstand Category 5 hurricanes Exterior panels are 7 inches thick, steel reinforced and have no windows or other glass openings 18 inch load bearing sheer walls
Entire building contains over 81 million pounds of concrete
Clear ceiling height of at least 14' to underside of lowest beam

Lightning protection system including grounding points on each floor and copper rings on roof and ground 3 loading docks with load levelers and 4 fuel truck loading stations

Environmental




The Continuous Power Systems (one of six in service) have integrated flywheel units - no UPS units are required as power is guaranteed 100 per cent available at all times.

Our power infrastructure includes the following: Power Distribution Units. The building housing the NAP of the Americas, is designed with three physically isolated commercial power vaults that are fed by two utility substations.

From each of these vaults, two (2) feeders supply the NAP, and each feeder supplies three (3) primary and three (3) secondary unit substations.

The commercial substations and unit substations are fully redundant, and each feeder is sized to supply the full overall load of the NAP.

These unit substations convert the 13.2 Kilovolt AC down to 480 VAC. The 480 VAC supplies the power distribution units (PDU's) that further convert the power from 480VAC down to 120 VAC.

Each of these PDUs has two feeds, and power is distributed from the PDUs out to the customers' equipment via a remote power panel.

Multiple redundancies Commercial power from 2 main Florida Power & Light (FPL) sub-stations with 4 - 13,200 volt underground feeders

2 interconnected FPL vaults each with a capacity of supplying 40 MVA, equivalent to 48,000 amps each at 480-volt 3-phase power

2 generator vaults per floor sized for 3 generator sets each

2 fuel vaults providing a total capacity of 180,000 gallons of diesel fuel

Fuel loading stations can house 4 tankers which can supply an additional 80,000 gallons of fuel if needed Fuel tanks are double steel walled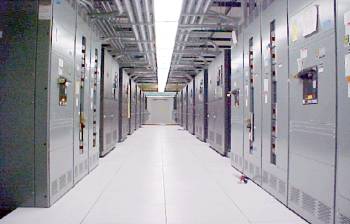 Fed from main TECO industrial chiller plant

Chiller plant is category 5 hurricane resistant

Reduced usage of ozone depleting refrigerants

2N redundant HVAC chilled water loop 7,000 tons of cooling capacity